The Lee of


the

the

Dark

Dark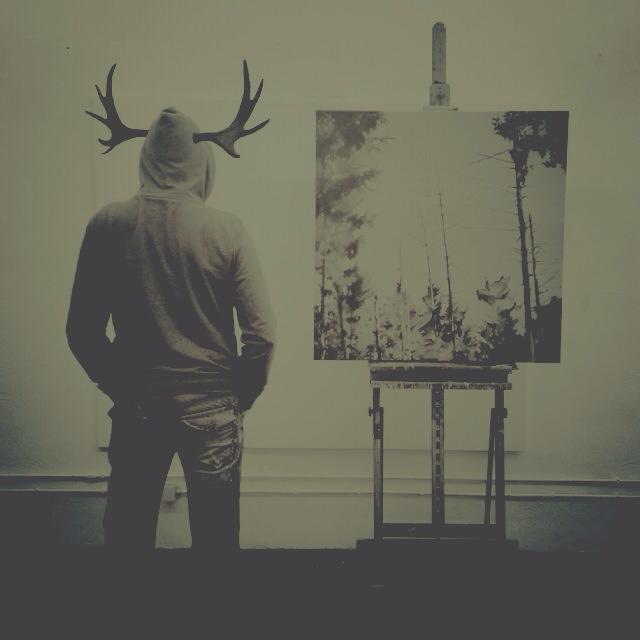 Bart Slangen pussyfooting breaks through perfection, starting from the idea that you shouldn't paint what you see, but that you can anticipate the visible world. He guides us through a world that we recognize and yet is alienating, a world that is not actually bound by time and space. His images express a somewhat melancholic desire for beauty, purity and neverthless… perfection.


– Daan Rau
Bart Slangen concentrates on unusual landscapes, such as a freeway with a bridge. In his green-tinted images, he creates a kind of alienating 'dusk' or is it, on the contrary, 'the hour between dog and wolf', the dawning moment of doubt of which direction to take? In any case, his works radiate both peace and restlessness, intimacy and detachment, certainty and doubt. It is exactly this duality that makes them so fascinating.

– Els Wuyts
At first glance, Bart Slangen's work looks rather ordinary, both landscape and portrait. But still, you sense a kind of alienation….
By leaving out certain elements -in his landscapes you rarely if ever see a human presence- and the monochrome use of color, he paints a melancholic and mysterious atmosphere. The blue-green-gray palette creates a time that cannot be precisely defined, a misty morning or rising darkness. The 'pixels' are a metaphor for a parallel world or a portal to this (dream) world.
Bart's works radiate restlessness and doubt but also intimism and romance.
His paintings are technically almost classical but the original clarity and sharpness is deliberately provided with a cloudy glaze, a layer of noise. They balance between a photographic and painted world of their own. Again and again that duality that makes his work so unique.
MIJN LANDSCHAP / MY LANDSCAPE
Morbee Gallery
Knokke-Heist
FROM LANDSCAPE TO ABSTRACTION
Galerie Lieve Lambrecht
Merendree
STEPHAN BALKENHOL / BART SLANGEN
Inter Art Center
Hasselt
IMAGES ARE THE NEW THINKING #4
Poortgebouw Abdijsite
Herkenrode
LANDSCAPES & MILESTONES
Galerie Lieve Lambrecht
Merendree
A SECRET SHOW
Bart Slangen-Jerry Heymans-Yves Velter
Melle
DAS UNHEIMLICHE
galerie Lieve Lambrecht
Merendree
BART SLANGEN / GIDEON KIEFER
Dommelhof
Neerpelt
fw:PAINTING - Les invité(e)s
Cacaofabriek
Helmond (NL)
CIAP
Hasselt
PAINTED
Galerie Link
Gent
MILLA-TUNES
Galerie Oost
Maasmechelen
BART SLANGEN / ZJUUL DEVENS
Galerie Link
Gent
ROADZ
Galerie Oost
Maasmechelen